A single-fold entry ramp can provide you with the accessibility and convenience you need to navigate your environment safely and comfortably.
Our entry ramps are designed to be durable, lightweight, and easy to use, providing a quick and effective solution for accessing doorways, thresholds, or other elevated surfaces. With a weight capacity of up to 800 pounds, our single-fold entry ramps can accommodate most scooters and wheelchairs while ensuring a safe and secure transition. Plus, with a compact and portable design, you can easily transport your ramp wherever you go, making it an ideal solution for travel or family outings. Don't let barriers limit your mobility. Rent a single-fold entry ramp today and experience the convenience and freedom it can bring to your life.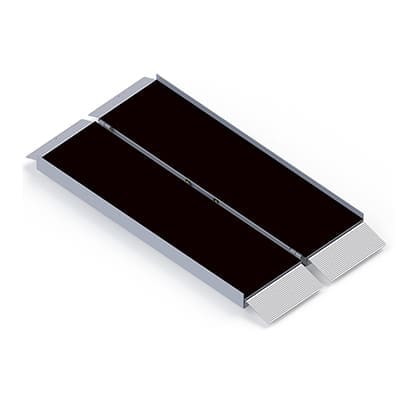 We offer portable single fold wheelchairs and scooter threshold ramps for rental with weekly and monthly packages. Please contact our staff for sizing and availability.
Rental Rates: Weekly : $70 | Monthly: $150
One-time Delivery and Pickup Fee: $60